Chinggis Khaans cavalry riders show. Chinggis Khans cavalry riders show.
TRAVEL TO MONGOLIA. TOURS
SPECIAL EVENTS 2010
Chinggis Khaans cavalry rides show 2010
10 Jule - 31th August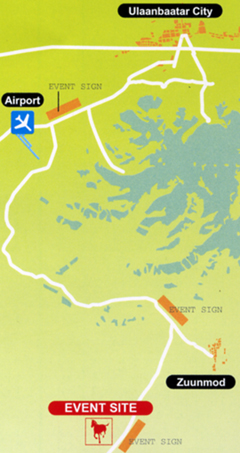 In 1162 deep in heart of Asia a child was born.
He was clutching up a blood clot which was a
sign of the heaven that he was destined to be
a great warrior His name was Chinggis Khaan (Temuujm).

His life was a common legend His last word pointed to his oldest son Uguudei was "I have conquered for you a large empire My life is too short to take the whole world Now you take over it "

The largest of the festivities will be a never before seen thirteenth century reenactment of Chinggis Khaan's magnificent warriors on the march. During this spectacular event, to be held in a steppe approximately 55 km from Ulaanbaatar, warriors of Chinggis Khaan will show their attacking techniques demonstrate their military skills with the 13th century weaponry, and parade before the spectators.

In our company, you can order tickets for this Chinggis Khaans cavalry rides show.
GENERAL INFORMATION ABOUT SHOW
Event site is located approximately 50 minutes
by car from central Ulaanbaatar
In Terra Square visitors can enjoy Mongolian traditional song and dance at the center stage.
Visitors can ride horse and camel.
Guest can enjoy taking a photo.
Visitors will enjoy classic Mongolian cuisine and other international fare in the comfort of ger shaped
restaurant.

Traditional concert between 14:00 - 14:40
Cavalry show between 15:00 - 16:10
Pop, rock concert between 16:30 - 17:10




CALENDAR
June
July
August

Sun

1
8
15
22
29
6
13
20
27
3
10
17
24

Mon

2
9
16
23
30
7
14
21
28
4
11
18
25

Tue

3
10
17
24
1
8
15
22
29
5
12
19
26

Wed

4
11
18
25
2
9
16
23
30
6
13
20
27

Thu

5
12
19
26
3
10
17
24
31
7
14
21
28

Fri

6
13
20
27
4
11
18
25
1
8
15
22
29

Sat

7
14
21
28
5
12
19
26
2
9
16
23
30
TICKET PRICE
| | | |
| --- | --- | --- |
| Seats | Adult | Child |
| Premium seats | 68$ | 34$ |
| Standard seats | 48$ | 24$ |
PAGES OF THE PICTURE ALBUM

Chinggis Khaans cavalry rides show 2008